Pentacle In-Out Board - User Guide for v6.03 - 7.05
May 25, 2019 3:28 AM
Section 1: Introduction
Welcome to Pentacle In-Out Board. This document should outline all the issues dealing with the installation and operation of Pentacle IN-OUT Board. This version is truly a full functional product that is suitable for use in any environment and is scaleable for all types of implementation. We, the members of the G2Soft.Net, thank you for choosing our software and hope you find it useful in all your endeavors.
Section 2: Installation
Pentacle In-Out Board is worked on Windows Platform, tested on Windows 2000 professional, Windows 98, Windows 2003 Server, and Windows XP PRO. It is ASP drived program. We tested it on IIS 4.0, IIS 5.0, and IIS 6.0.
You can install it in any ASP environment. Users can use any web browser. This program is used WEB standard to develop. It also passed the W3C XHTML 1.1 validation and W3C CSS version 2.0 validation.
Step 1:
You can download the file from our official site
Step 2:
Decompress the archive to a local directory on your system. From there you must FTP all the files it contains (being sure to retain the directory structure) to your host.
Step 3:
Setting your IIS server.
Pentacle In-Out Board is a web application. If you put all files into the web root, you don't need to do the following settings on IIS server. Otherwise please do the following configuation.
Open the Internet Services Manager, choose the folder you set for Pentacle In-Out Board, such as below "pentacle". The icon of it looks like a folder. Right click "pentacle", click properties.
Choose the "Write" checkbox.
Click "Create" button will create the application for you.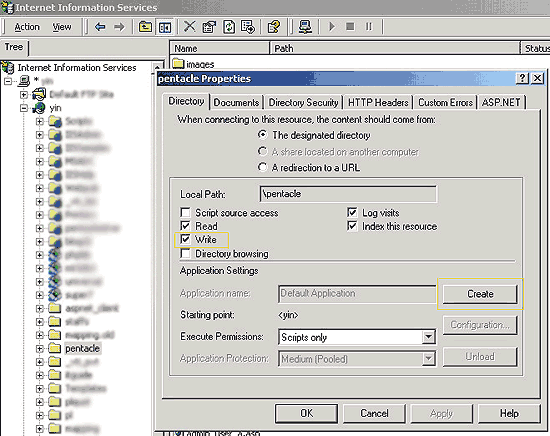 After that the icon of "pentacle" looks like an opned box.

Then click ok to close it.
Step 4:
Only for V6.03 - 6.10
Setup the setting file named inc.asp.
Open it with text editor, Dbname should be changed to some longer and make it
difficult to guess. Change the database name under folder dbs accordantly.
You can change it from pentacle603.mdb to mypentacle.mdb
You should know the time zone in which your server is. If the time zone is West 8,
or -8. Set the servertimezone = -8.
At the first time you use your In-Out board, you will be asked to setup it first, that is pt_load.asp with your site address. eg.
https://www.mysite.com/pentacle/pt_load.asp. Of course replace these with the real location! Everything from this point is fully automated.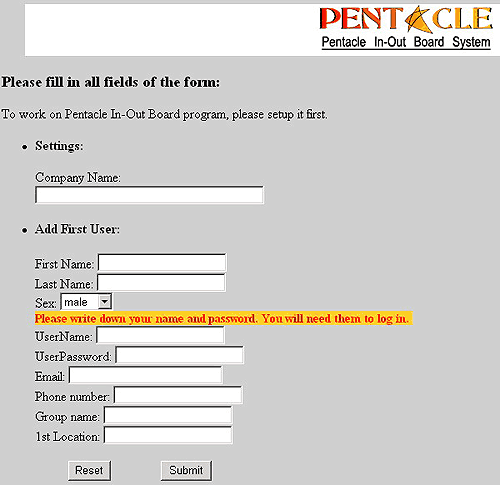 Only for V6.03 - 6.10
There is a field of Timezone for 1st location. Must be entered.
All information are required. Please filling all information.
After setup, remember to delete the pt_load.asp, then you can use the Pentacle In-Out Board by https://www.mysite.com/pentacle/
Section 3: Administration
Pentacle In-Out Board is easily configurable. Most configurations are done in the administration panel.
Only the user has Administration right can access the administration panel.


Click the link above will lead you to the following page: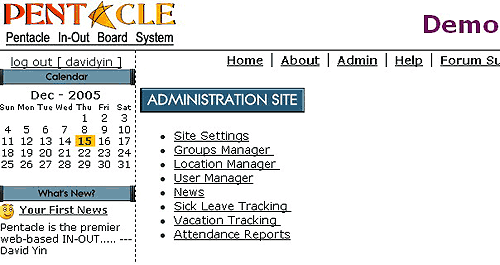 3.1: Site Settings
Change the title of the web browser and show your company name.
Change default skin, which will be used as the visitor skin. Pentacle is included five skins.
You can config your In-Out Board viewed by anonymous visitor or not. This feature are usefull when you want to check the In-Out Board without log in.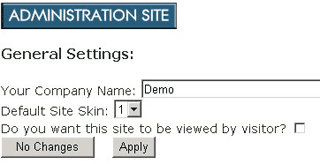 3.2: Groups Manager
Add Groups and change name of group. Up to 5 groups.
You can not remove the group from the list.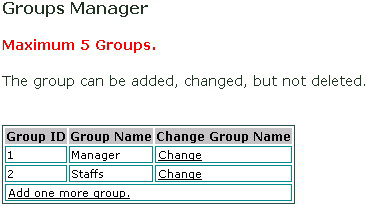 3.3: Location Manager
Add Locations and change name of location. Up to 5 locations totally.
You can not remove the location from the location list.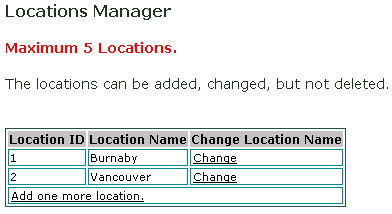 3.4: User Manager
You can add Users as you like. The Max. user is 50.
In the administration site, you can change all user's information except the usename.
Even when some one leave the company, you can deleted it from the IN-Out Borad to free the space for following coming staffs.
Only the first one (Creator of the In-Out Board) can not be deleted.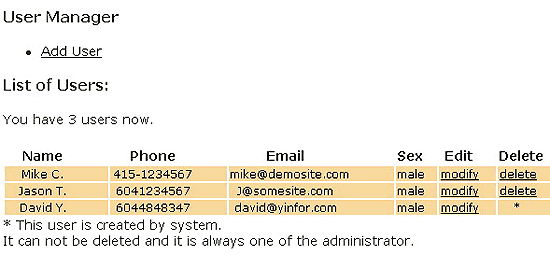 3.5: News
Here, Admin user can add news. Everyone come in will see the news in the homepage.
Also can be changed and deleted. You can set up the news expiry date for each piece of news. That means this news will be shown on the homepage untill the expiry date.


3.6: Sick Leave Tracking
Record in which date staff has a sick, even half day.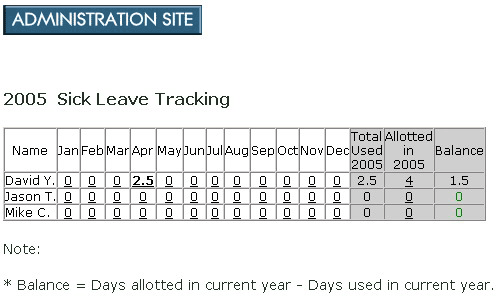 3.7: Vacation Tracking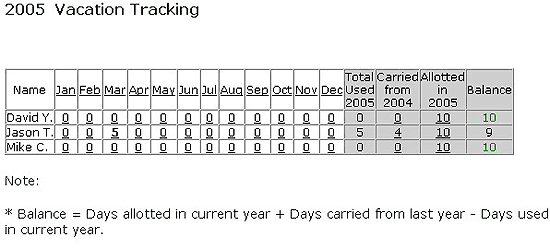 3.8: Attendance Report
This is a pretty good feature we provide you to make a report of the specifid user's attendance in the special time range.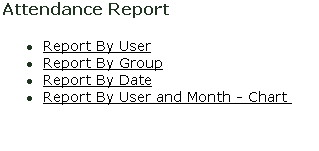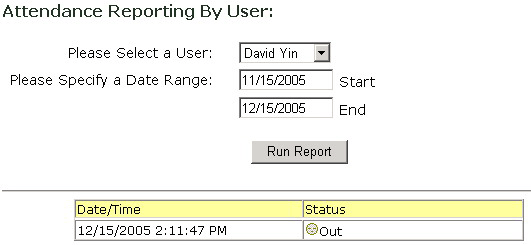 Section 4:
User Setting
Normal user can access the User Setting to change his own information.

Section 5:
Using Pentacle In-Out Board
Users will use the web browser to sign In-Out as they do in the old IN_OUT Board made by a hardwood board.
When login as a normal user, you can change your own status, view others, and set your own future event. You can also change your own user setting.
When login as administrator, you can change every user's status, set every one's future event, and access administration site.
When one user want to change his own status, just click on his name. Choose the status, enter the expected return time, and/or comment, then click submit. That is all.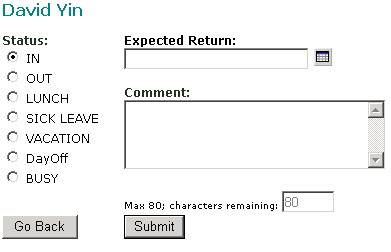 Put your mouse on the name, , there will be a pop information to you.
If you want to send email to someone, click the mail icon on the right of that person's name.
Set the future event. All fields are required.